Molly Rollings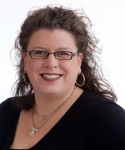 Molly Rollings
Sales Executive
16 Years of Service
Phone: 217-356-6400
Fax: 217-356-8044
Email: Send Message

Savoy Branch
1806 Woodfield Dr.
P.O. Box 723
Savoy, IL 61874
Favorites
Favorite Book/Author
Depends on the day. I love James Patterson, Jonathan Maberry and many more!
Favorite Movie
Comedies, unless it's October, then it is all scary movies.
Favorite Quote
"Go into the world and do well. But more importantly, go into the world and do good." -Minor Meyers Jr
Favorite Vacation Destination
Any place where I can unplug, relax and get a good meal
Favorite Sports Team
Chicago around the board - Blackhawks, Bears and Cubs
Hobbies
Outside of work you can find me:
Cooking, gardening, reading, spending time with my friends and chasing my nephews around.
Education
Schooling
Illinois Wesleyan University
Degrees, Certifications, Licenses and Designations
Bachelors in Risk Management with a minor in Psychology and CIC