Sean Griffith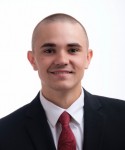 Sean Griffith
Sales Executive
3 Years of Service
Phone: 217-347-0584
Fax: 217-342-5626
Email: Send Message

Effingham Branch
801 N. 3rd St. Suite B
P.O. Box 786
Effingham, IL 62401
Favorites
Favorite Book/Author
"The Prince" by Niccolo Machiavelli
Favorite Quote
"You're only here for a short visit. Don't hurry, don't worry. Be sure to smell the flowers along he way."
Favorite Vacation Destination
Colorado
Favorite Sports Team
St. Louis Blues
Hobbies
Outside of work you can find me:
spending time with my daughter, gardening, cooking and doing personal research at the library.
Education
Schooling
Alpha Omega Academy, Lake Land College
Degrees, Certifications, Licenses and Designations
Property, Casualty, Life and Health